CREATING THE PERFECT FIT FURNITURE IS EASY
HERE IS A QUICK STEP BY STEP GUIDE. WORRY NO MORE - COUNT ON US!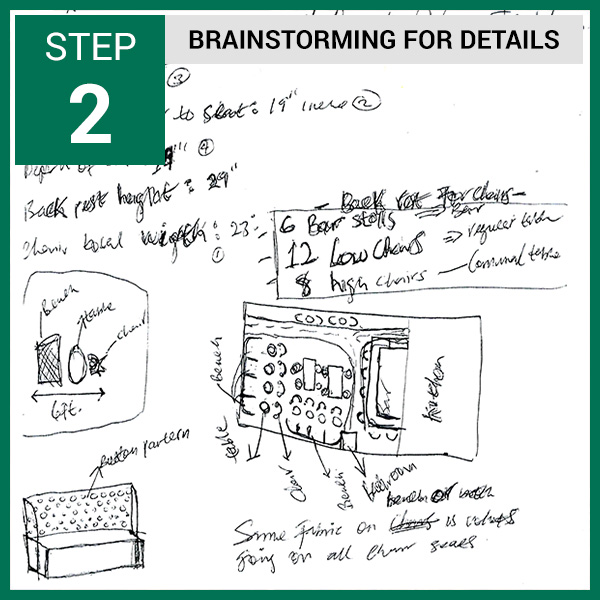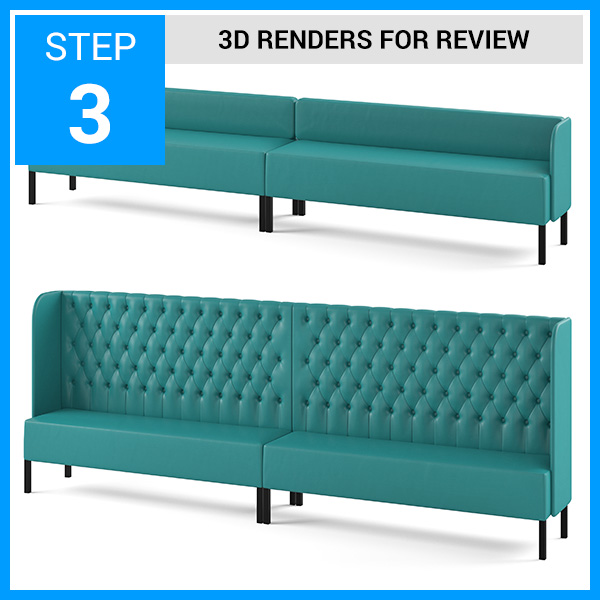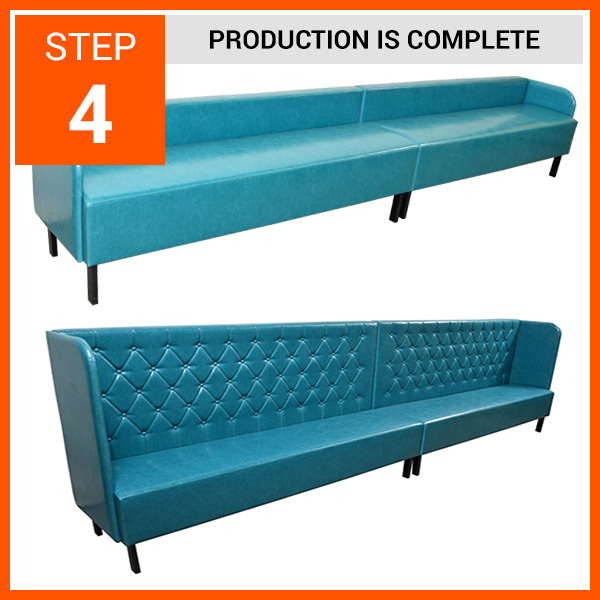 A CLOSER LOOK:
Step 1: Project Initiation
Customer has reached out with a sample picture found online. Custom wanted a similar seating but build to her specs so it would have a perfect fit in her establishment. (Step 1 image above)
Step 2: Project Research
After a conversation with our expert team, customer has provided a draft of how she envisioned her custom furniture. We accept all types of sketches from hand drawing to CAD, anything. We are dedicated to your success and are ready to tackle any of your projects. Customer hand drew what she expected for us to accomplish. (Step 2 image above)
Step 3: Project Development
Once we gather all the needed information such as dimensions of the seating area and dimensions of the custom furniture, we've presented custom 3D renders per customer request, so we can further discuss and review her custom order. (Step 3 image above)
Step 4: Product Manufacturing
Our highly skilled craftsmen begin to work on this project. It begins with frame building of solid wood, followed up by Legget springs, CAL 117 foam and resilient (up to 500,000) double rated vinyl. We manufacture our products to exceed all industry standards to create a superb product that we can proudly say is handcrafted in USA by ModernLineFurniture® in New Jersey.
Step 5: Product Inspection
Our production management inspects each individual furniture component and marks it for packing & shipping. (Step 4 image above)
Step 6: Shipping Preparations
The items are covered and immaculately shrink wrapped for protection and loaded on a pallet. Pallet is then picked up by the freight carrier to customer's destination. We contact the customer and proceed to make all the necessary delivery arrangement based on customer's availability to accept shipment.
Step 7: Customer's Feedback
Customer receives the delivery and sets up the designated seating space. The furniture fits like a glove and creates a gorgeous seating area - all while being space efficient and ready for daily large crowds. Customer may leave reviews on his or her favorite rating site such as Google. We will highly appreciate it.
Modern Line Furniture® is a custom Hospitality Furniture Manufacturer in Linden, New Jersey. Bring your ideas, sketches, floor plans to us, and we will build any furniture specifically for your space. All work is done on premises in NJ, and we deliver nationwide.